Commander's Letter: For more than 75 years, we in AMVETS have taken to heart the credo of service set forth by our organization's founding fathers. In so doing, we endeavor to provide our fellow veterans with the type of support they truly deserve. This outreach effort takes many forms, from the professional advice our service officers offer on earned veterans benefits to our legislative efforts on Capitol Hill to the work done by our hospital volunteers.
Other AMVETS members involve themselves in a range of initiatives aimed at contributing to the quality of life in their local communities.
These two areas, veterans service and community service, drive the commitment we have to make a difference in the lives of others. The pages of this website provide more detailed information on each area, as well as a wealth of information for veterans, their families and other interested citizens. Please take a few minutes to review what makes AMVETS the distinctive organization it is. Our aim of building for a better America is an undertaking to which all can contribute.
I invite you to join us, today.
Over 75 Years…
Nine World War II veterans clubs, met in Kansas City, Mo., and founded The American Veterans of World War II on Dec. 10, 1944. Less than three years later, on July 23, 1947, President Harry S. Truman signed Public Law 216, making AMVETS the first World War II organization to be chartered by Congress. Since then, the original charter has been amended several times to admit as members those who served in different eras. On 16 October 2002 the 107th Congress enacted Public Law 107-241 (H.R. 3214), an Act to amend the Charter of the AMVETS organization to "AMVETS (American Veterans)". Today, membership in AMVETS is open to anyone who is currently serving, or who has honorably served, in the U.S. Armed Forces from World War II to the present, to include the National Guard and Reserves.
Our members are Veterans and Active Duty Servicemembers serving in the U.S. Army, U.S. Navy, U.S. Marines, U.S. Air Force, Coast Guard, Hawaii National Guard and Reserve.
Meeting Location: AMVETS West Oahu Veterans Center
5001 Iroquois Avenue, Bldg 612 West Loch Annex (JBPHH)
Ewa Beach, Hawaii 96706
Email: admin@amvets-hawaii.org
Company Main: (808) 900-7187
Company Fax: (808) 900-7157
Administration Office: (808) 900-7364
AMVETS West Oahu Veterans Center: 808-888-0410
Department Mailing Address: AMVETS Hawaii, P.O. Box 2865, Ewa Beach, HI 96706
AMVETS Department of Hawaii
is a Congressional-chartered 501(c)19 non-profit, Veterans Service Organization (VSO) EIN:83-2518892
Board of Directors & Officers:
State Commander:
Donovan Andrew Lazarus (US Army, Retired)
Email: donovan@amvets-hawaii.org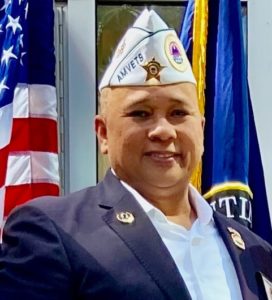 Commander Lazarus: "I am just another Basic Combat Training Drill Sergeant trying to giveback. For the past 20-plus-years, I have watched so many of the recruits I have trained accomplished great things. They inspired me to do what I do. I will always honor their service and sacrifice, and the countless others… It is our duty to Honor them, Never Forget!"
1st Vice Commander:
Ronald Y.K. Lam (US Army, Veteran)
Email: ron@amvets-hawaii.org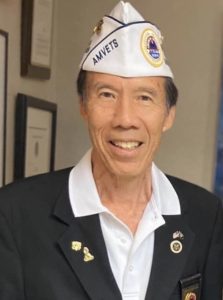 2nd Vice Commander:
Alim Shabazz (USCG, Active Duty)
Email: alim@amvets-hawaii.org
3rd Vice Commander & VAVS Deputy:
Rodney W. Boucher (US Navy, Retired)
Email: rodney@amvets-hawaii.org
Adjutant:
Gregory Benton (US Army, Retired)
Email: greg@amvets-hawaii.org
Service Officer:
William Rodriguez (US Navy, Retired)
Email: william@amvets-hawaii.org
Judge Advocate:
Luis A. Linares (US Army, Retired)
Email: luis@amvets-hawaii.org
Provost Marshall:
Carmelo Diaz-Rotger (US Army, Veteran)
Email: melo@amvets-hawaii.org
Finance Officer:
Mary Noland (USA, Active Duty)
Email: mary@amvets-hawaii.org
National Executive Committeewoman (NEC):
Demetria Williams (US Army, Veteran)
Email: demetria@amvets-hawaii.org
National Executive Committeewoman:
Aurelie Mulcare (US Army, Retired)
Email: aurelie@amvets-hawaii.org
Public Affairs Officer:
Corwin M. Colbert (US Navy, Retired)
Email: corwin@amvets-hawaii.org
Advisory Board Member:
Bronsonn J.A. Taylor (US Army, Retired)
Email: bronsonn.taylor@gmail.com
Community Business Advisor:
Jonathan Tichepco
Email: hoopgrindznsmwiches@gmail.com
Mental Health Advisor:
Judit Brissette
Email: brissette@hotmail.com
#AmericanVeteransHawaii #AmvetsDepartmentofHawaii #AmvetsHawaiiServiceFoundationCorp #AmvetsHawaii #AmericanVeterans #HawaiiMilitary #HawaiiVeterans