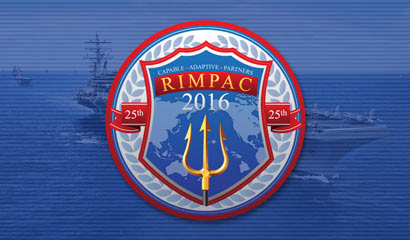 PEARL HARBOR-HICKAM – Joint Base Pearl Harbor-Hickam (JBPHH) invites the general public to free, narrated boat tours of the harbor to view visiting Rim of the Pacific (RIMPAC) ships and vessels on Aug. 3-4.
The tours will be approximately 20-minutes long aboard the Navy's white boats, and will be departing from the Pearl Harbor Visitor Center, 1 Arizona Memorial Place.
Tours for the general public will be limited to the following schedule, on a first-come, first-served basis (300 guests per tour time). No tickets or reservations required.
Wednesday, Aug. 3 at 4 p.m., 4:30 p.m., 5 p.m., 5:30 p.m.
Thursday, Aug. 4 at 4 p.m., 4:30 p.m., 5 p.m., 5:30 p.m.
No backpacks, fanny packs, luggage, diaper bags, camera bags, purses, large cameras/tripods or other items that provide concealment are allowed in the Pearl Harbor Visitor Center. No bag storage is available for these after-hours tours, so please plan accordingly.
Limited photography will be allowed during the tour.
For questions, please contact JBPHH Public Affairs Office at (808) 473-3152 or 473-2924.