ALCON:
For widest dissemination,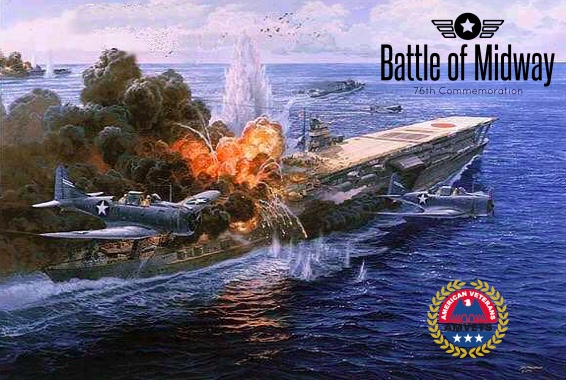 Battle of Midway Movie Will Be Shooting in Hawaii
Some Pearl Harbor and Hickam areas will be used for sets and likely WW-II type interiors.They may likely
use some of the facilities at Barbers Point where other movie production companies have used.
Roland Emmerich's WWII Epic 'Midway' Sets Sail With Woody Harrelson, Mandy Moore & AGC Studios — Cannes Hot Pic
http://deadline.com/2018/05/roland-emmerichs-wwii-epic-midway-sets-sail-with-woody-harrelson-mandy-moore-agc-studios-1202374631/
EXCLUSIVE: In what will be one of the biggest movies on sale at Cannes, Stuart Ford's recently minted AGC Studios will be enticing buyers with Roland Emmerich's WWII action epic Midway, which we understand has Woody Harrelson and Mandy Moore in negotiations to star as part of a strong ensemble cast.
Wes Tooke's script about the iconic Battle of Midway, a turning point in the Pacific theater of World War II, follows the soldiers and aviators who helped turn the tide of the war in June 1942. As we reported last fall, Lionsgate snapped up U.S. distribution rights through its Summit label to the Emmerich-directed project about the seminal WWII battle and the near $100m project is now moving into pre-production ahead of an August 16 start of shoot with destinations including Hawaii and Canada.
This is a significant statement of intent from former IM Global chief Ford whose new outfit AGC has been staffing up in recent months. "Roland's track record and brand as a master of big budget action films is second to none and I'm highly confident Midway will make a big splash in the Cannes marketplace," Ford told us.
The producers are pulling together a strong ensemble team to star alongside the duo in the movie, whose subject has been a rich source for filmmakers. Universal released a big budget version of the Midway battle in 1976, starring Charlton Heston, Henry Fonda, James Coburn and Toshiro Mifune.
Emmerich and Kloser are represented by CAA and Bloom Hergott Diemer Rosenthal Laviolette Feldman Schenkman & Goodman. Tooke is represented by WME, Kaplan Perrone Entertainment and Lichter, Grossman, Nichols & Adler. AGC's deal was brokered by Ford and the company's Chief Operating Officer Miguel Palos.
Mel Gibson To Direct World War II Drama Destroyer
https://screenrant.com/mel-gibson-destroyer-director/
THR first reported the news of Gibson's impending hire on Monday. Destroyer marks the feature-length screenwriting debut of Gibson's longtime girlfriend, Rosalind Ross. Also along the lines of Hacksaw Ridge, Destroyer will be based on a nonfiction book about the Battle of Okinawa, John Wukovits' Hell From the Heavens: The Epic Story of the USS Laffey and World War II's Greatest Kamikaze Attack. But the similarities go below the surface as well; the true story of the USS Laffey concerns a crew of naval officers who, despite 32 deaths, successfully defended the naval destroyer against 22 different Kamikaze attacks by the Japanese army.
Battle of Midway 76th Commemoration Ceremony
Order of Events:
Prelude Music – Marine Forces Pacific Band
Welcome – MC: 2LT Danielle Nuszkowski
Posting of the Colors: Marine Forces Pacific Color Guard
National Anthem & Hawai'i Pono'i – Mililani High School Choir
Invocation – Chaplain, LCDR Philip Ridley
Speaker: Senator Mike Gabbard, Hawaii State Senate, District 20
AMVETS Silver Helmet Award presented to Dr. Gerard K. Akaka – Sen. Gabbard & CDR Lazarus
Speaker: Valerie Van der Veer, President, Barbers Point Riding Club
Speaker: Benjamin Resnick, Historical Archaeologist
Speaker: Daniel Martinez, Chief Historian, National Park Service
Keynote Address: COL Gregory Gadson (U.S. Army, Ret.)
Hawaii Certificate of Achievement presented to COL Gadson by Sen. Gabbard & CDR Lazarus
Battle Hymn of the Republic and God Bless America – Marine Forces Pacific Band
Placing the Ceremonial Wreaths – AmVets Hawaii:
Commander Donovan A. Lazarus, CDR Ron Lam, CDR Carl Vincenti and COL
Gregory Gadson, Senator Mike Gabbard and Dr. Gerard Akaka
National Park Service: Superintendent Jacqueline
Ashwell and NPS Chief Historian Daniel Martinez
Remembering Battle of Midway Casualties – MC: 2LT Danielle
Nuszkowski and Donna Gishitomi, Dir., AMVETS Family Services
Battle of Midway Tribute – Playing of "Taps"
Music – America the Beautiful – Marine Forces Pacific Band
God Bless The U.S.A. – Mililani High School Choir
Benediction – Chaplain, LCDR Philip Ridley
Retirement of the Colors – Marine Forces Pacific Color Guard
Music – Armed Forces Medley Salute – Marine Forces Pacific Band
Concluding Remarks & Acknowledgements
Closing Ceremonial Music – Marine Forces Pacific Band
End of Program
#MelGibson
#WoodyHarrelson
#MandyMoore
#Emmerich
#Kloser
#Midway76